Aquarius - Career and Business Horoscope
What the stars have in store for you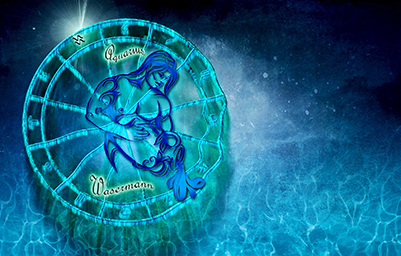 Daily Horoscope
A day demanding you to be extra alert, warns Ganesha. Be careful while performing technical work. It is a day to rectify or sort out issues related to systems and software. The interruption is not likely to cause any delays as you will work smoothly, says Ganesha.
Weekly Horoscope
The Career Headway
It might be a week with ambiguous results with both good and bad outcomes. Maintain patience in all dealings, and this may lead you to success on the professional front. There are chances for a lapse of concentration on the work front. You might need to be attentive in your work if you want to get the best results. Aquarians working part-time could get some better opportunities.
On Work Front
You may be able to achieve great results for your hard work during this time. The week could be fruitful. Aquarius natives might be in a strong position on the work front, suggests your stars. New job opportunities are on the way for job seekers. According to your weekly predictions, if you are in a private company may get you the much-awaited recognition, promotion, and increment.
The Career Grid
You may strive hard towards selfless service, and this would help you to shine at work. You may feel gratified by the support from your colleagues and supervisors. Freshers may have to make a lot of modifications to carry out their activities in a smooth manner. As they may lose hope, they might need to re-build the confidence to succeed. Be careful in dealing with your equals.
Monthly Horoscope
High Performance
The month calls for a particularly productive period at work. Your performance is at an all-time high, and the senior management is clearly pleased. The last week of the month may provide you with a good opportunity to work overseas or find a foreign partner for your business. What else do you need when your company idea can be funded? This is a good month to hope for it. You're probably going on a work-related trip, which could be local and short. Dedication and hard work go hand in hand, and now is the time to reap the benefits of your labour. The last week of the month encourages you to be cautious in your written and spoken communications. You can have unwelcome disagreements with your superiors. The second part of the month is not a good time to start a new project, according to your monthly career forecast.
Career- Something New!
The planetary position predicts a job change or a transfer order at work during this month. This month is also a good time to start a new business. If you're preparing for a government job, this is a good time to hear good news. The month also suggests that you should concentrate on your product or brand's advertising. This is advantageous if you're presenting a new product to the market or focused on market expansion. It also aids in the increase of sales. A foreign country may provide you with fresh job options. Re-joining your prior company is not a good idea. This month may also bring promotions and appraisals! Those of you who have been struggling to find the correct balance of activities may be relieved to learn the solutions to your problems. Now is the time to advance in your career and business.
Wonders In Career
According to your monthly career predictions, this month may be a wonderful and enriching time for your professional possibilities. The first half of the month may be extremely rewarding and enjoyable, so prepare to take advantage of it. If you're thinking about starting a business, new ideas can help you achieve positive outcomes in the long run. Your competitors may want to bring you down, so make sure you counteract their efforts. If you work in academia or finance, you may be able to get investors for a new enterprise. If you're a student, you're likely to hear positive news about your recent tests because you have a decent probability of passing them. Your monthly horoscope also predicts that some of you may get your first job. Those who have been looking for a good opportunity are more interested.
Yearly Horoscope
This year 2022 your efforts may be taken into consideration and you'll get the fruits of your hard work and labour. Also, abstain from starting any new work until the middle of the year 2022. After the middle of the year, the opportunities may knock at your door, so be extra cautious. Those who're in the real estate business may get great profits during this year. Timely completion of work may affect your earnings and savings for a time being, especially if you are working as a businessman. If you are working in a team, you are likely to be promoted as a team leader as you strive to work for the good of the whole team. This year, you are getting new responsibilities just because of your hard work and you should continue doing this predicts your yearly horoscope. If you want to be an entrepreneur or start your pre-decided business with your fellow mate, this year is not showing any signs in this direction, avoid starting it.