Libra - Career and Business Horoscope
What the stars have in store for you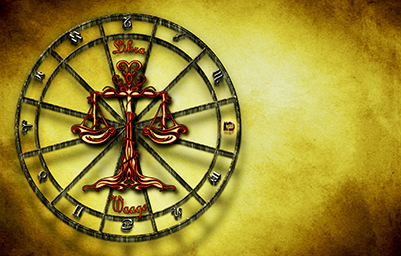 Daily Horoscope
An action-packed day will keep you on your toes. You will be at your energetic best. You will be engaged in organizing conferences or meetings. At the end of the day, you may gain satisfaction from your work.
Weekly Horoscope
Task CompletionYour career graph might remain in an uptrend this week. You might have ample support, and you can complete your tasks efficiently. You might face some disturbances from your associates during the middle part of the week, but you can get through this by remaining calm. People in business should avoid taking any major decisions related to expansion. You may find favourable situations by the latter part of this week.
Progressive Career GrowthYour strong action-oriented plans may lift your career to the next level of progress. Your confident actions might bring good results, and you may find a higher elevation in your career. People in business need to keep a close watch on their competitors during this week. However, there might be better net profit. Planetary movements seem favourable to strike good, profitable deals during the middle part of this week.
Good OptionsIf you are looking for job options to change, you may likely find a good option this week. You might have clarity about how to proceed further, and hence your progress might be good. The latter part of the week might not be hunky-dory as you might face stressful situations. Fix your priority well and keep working hard. The period around the weekend may ease the pressure.
Monthly Horoscope
Career Rollercoaster
During this month, favourable planetary influences may assist you in maintaining a high level of performance. It could help you build a better reputation and increase your chances of vertical expansion in your field. However, as the month goes by, you may face new problems. Around the middle of this month, the severity of your troubles may begin to dissipate, and you can have some good prospects for advancement. It appears to provide some promising effects for business people. Some efforts to pursue high-value customers in order to negotiate a significant transaction may be delayed, but they may eventually succeed. On the career front, optimism may reign supreme for the majority of the second half of this month. Your patience and perseverance, on the other hand, is most likely to be put to the test.
Climbing Career
This month may start off on a bright note in your professional life. Your strong action-oriented ideas have the potential to propel your career to the next level. Businesspeople must maintain a tight eye on their competition, but the net profit may be higher. If you're looking for a new job, you'll most likely find something suitable around the middle of this month. The economy is expected to grow. You may also have a better understanding of how to attain your objectives, allowing you to cope with problems more effectively. During the latter half of this month, you are likely to enhance your position. Your productivity and performance are most likely to be superb, allowing you to advance in rank and receive greater recognition. There may be some setbacks and problems along the way, but you should eventually be able to receive the results you deserve.
Career- Mix Of Roadblocks and Opportunities
This month may present some promising prospects for advancement. However, there may be roadblocks in your way, so don't expect to see results right away. Have patience; as the month progresses, you may be given more opportunities to demonstrate your talents. It appears to be progressive for businessmen as well. However, keep in mind that luck may not be on your side, and your associates may cause roadblocks towards the middle of the month. Uncertainty may decrease, and the second half of this month may allow you to reorganise your plans. You may try some creative tasks. Entrepreneurs may also be able to increase their customer base. Despite some positive influences, you may be doubtful of your judgments and talents throughout this phase. Around the end of the month, the uncertainty might dissipate. Businessmen may be able to make an impact with their efforts. Stay positive.
Yearly Horoscope
This year, 2022, you can expect to receive promising opportunities in your career. If you're seeking a job due to unemployment, underemployment, discontent with a current position, or a desire for a better position, then you would start getting proposals after the middle of the year. Travel is also on the cards but you need to be very careful while travelling. Those who are waiting for their increment may finally see good news coming. This year is going to be outstanding for you on the job and career front. For those who work in sales, you may come up with new business ideas to increase your sales. The people working in the travel and tourism industry, are going to have work-related journeys for the promotion of their ventures in the year. All those who are in business should get ready to enjoy the good times and success, as their creative ideas may attract an increased sale, predicts your career yearly horoscope.