Libra - Money and Finances Horoscope
What the stars have in store for you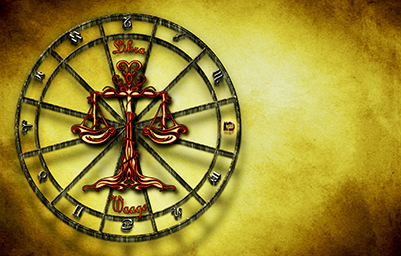 Daily Horoscope
You will not be able to find any logic behind your current financial status and will be wondering how to progress financially. Ganesha feels that this is the time to cut back, relax and enjoy what you have.
Weekly Horoscope
Earning PotentialYou may have strong planetary support to enhance your financial potential this week. Overall your financial management might be excellent during this week. During the middle of this week, it could be difficult to resist the temptation of buying some expensive things. But here, you need to practice restraint as some unexpected expenses are on the cards for you around the latter part of the week.
Long Term Financial ViewDuring this week, the sound financial flow may help you to empower your financial status. However, you need to keep a long-term view and increase your savings. You may make some mistakes and waste some good opportunities. However, you might rectify them and take corrective measures as well. The week may end on a positive note with your efficient money management and overcoming some financial hurdles.
Flaunt your AffluenceA good inflow of money may boost your financial prospects during this week. You may likely buy some costly gadgets and good luxuries this week and flaunt your affluence. However, you need to be cautious in your financial decisions during the latter part of the week. You may avoid being adventurous about money matters around the weekend. Otherwise, you might find yourself in a tricky situation.
Monthly Horoscope
High Tide Of Money
This month's plants may present you with some promising fruits to increase your revenue. Your investments are expected to yield exceptionally large returns in the future. So, don't let this opportunity pass you by. This might be an excellent time to invest in fixed assets, land, or residential homes. Also, near the middle of the month, some excellent news about a coming financial issue may lift your emotions. Some fantastic earning opportunities may present themselves in the second half of this month, allowing you to increase your savings potential. Take advantage of fresh prospects and make the most of this time to strengthen your financial position. You'll need to exercise restraint in the latter weeks of this month since some unexpected expenses are on the horizon.
Uprise In Finance
This month has the potential to improve your financial situation. However, you must have a long-term perspective and expand your savings. It means you've made some blunders and squandered some nice possibilities. You may, however, learn from your mistakes and take corrective action. As the month progresses, a steady supply of funds may improve your financial situation this week. Avoid being risky with your money in the middle of the month, or you may find yourself in a difficult situation. The second half of this month could be good for both your wages and investments. It may also assist you in resolving certain unresolved concerns. This month's final portion may be a good time for you to finish any long-overdue projects. As the month draws to a close, your financial situation may remain stable, and your fortune may grow.
Hard work Pays More
This month may be favourable for you to strengthen your financial position and achieve your goals. As the month continues, your effective financial preparation may assist you in strengthening your financial position. You appear to be on the verge of a new opportunity here. During the middle of this month, your financial progress may be good. The planets, on the other hand, may require you to put forth more effort to obtain your goals. It could also offer some positive news about some items that have been pending. The last few days of this month may be favourable for making important financial decisions. Your efforts may provide positive outcomes and gain. It would also provide some fun and happiness in the weeks leading up to the conclusion of the month. You are prone to spend money on your family and to buy expensive gifts for your loved ones.
Yearly Horoscope
The year 2022, may have many messages for you this year. This year you may see an excellent flow of income all throughout the year and you may enjoy the kind of money you may get in the year of August. The first year of the year needs your careful expenditure as unavoidable expenses are predicted. The second half of the year may be relaxing and you can enjoy spending your hard earned money with your family, says yearly horoscope. If you are planning to invest, the second half of the year seems to be productive, when you can expect good returns on the luxury and property you have paid interest in. The year 2022, your financial condition seems to be very promising this year. This year may make money matters more challenging than you have been thinking. Refrain from taking decisions related to major financial involvement. You might have to hold some of your financial spending this year.