Pisces - Love and Relationship Horoscope
What the stars have in store for you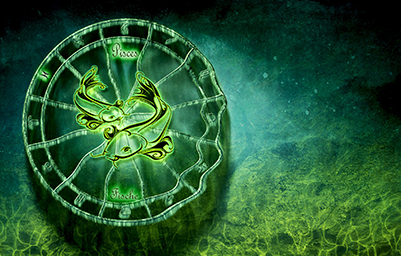 Daily Horoscope
If you wish to propose to someone, Ganesha says today's the day! Go down on your knee and gift the thing that immediately captures his or her attention. Go to the place that perfectly defines the state of peaceful mind, suggests Ganesha.
Weekly Horoscope
Relationship PropositionThis week's marriage connection might be excellent, but you need to restrain your anger and hostility because there might be a communication gap due to workload. You should also give your partner quality time. Some of you may get a relationship proposal. Stars are suggesting a temporary connection, so avoid being in a relationship. Some partners with a love partner may emerge. Ego clash may come.
Homeland LoveSome of you may fall in love due to Venus transit, and some hidden relationships prosper. Marriage will be beneficial if you have a good time together because of Mercury transit. Try not to argue with your wife. Some of you may feel grumpy, so be modest with your partner. A Marriage proposal may come from a hometown. A married partnership might fail due to stress.
Memorable MomentFor you, a love connection may be excellent. This week, communication and dedication might be key. You would organise a date with your sweetheart. Good opportunity to communicate your feelings; otherwise, you may sense distance. The commitment may have an essential part to play. Gifts and parties along with your love partner might provide you with a great experience. Love and romance might have some distance.
Monthly Horoscope
Love Proposals
You may get proposed to and have success in your love connection this month. However, in the middle of this month, you must pay close attention to your relationships. Venus is indicating that you should put your ego aside and strive to approach relationships with humility. There's a good chance you'll get into an argument over ego clashes. To have a healthy relationship this month, some of you need to rejuvenate your love life and spend quality time together. Unnecessary arguments and aggressive speech can lead to a breakup. Some of you may become involved in extramarital affairs, which must be addressed. In a married partnership, miscommunication is possible. There may be a delay in getting expected results in divorce-related matters, so try to avoid expecting results right away. Because married couples may experience a communication gap in their relationship, it is recommended that you spend quality time together.
Tough Love
In terms of love and marriage relationships, this month is not going to be easy. You must work on your relationship this month. Keep your pledges, and don't give incorrect information or commitments in a relationship. Avoid sending a nasty message or replaying it because this can generate relationship ups and downs. You should set aside some time to reflect on your behaviour since it may have a significant impact on your relationship. Make a schedule for your work so that you can spend time with your partner. This may provide your relationship strength as well as the unforgettable time together that is necessary for a great married partnership. Try not to enquire about every minor detail. Allow your lover some space in order to maintain a healthy connection. You can be attracted to someone in your buddy group and have the chance to establish a relationship with them.
In a marriage connection, you must pay attention because the planets may bring up some ups and downs. In a relationship, you may discover the importance of commitment and honesty. Assisting your spouse in both personal and professional matters may help your marriage move in the correct direction. Don't put pressure on your spouse to do things your way, as this might cause stress in your marriage and create a rift. Those of you who have been divorced may have the opportunity to be in a relationship again, but you must be patient this time.

Yearly Horoscope
Singles may find themselves swayed by the charm of the other person and there are high chances that you may find your soulmate. If you propose, then the probability is high that you may receive the cooperation from your partner. This is also the time when the understanding may grow in your relationship. A little control of your anger and temperament would be helpful which would drive you to lead a good relationship. Give enough ground to your partner to clarify this behaviour. One in a meaningful relationship may give some useful tips for enhancing your prospects. It is a high time to make it up to your partner too. Irritating behaviour or harsh words may spoil the harmony in a relationship. If you are single and waiting to meet a partner of your choice, online portals can be a great help.