Virgo - Career and Business Horoscope
What the stars have in store for you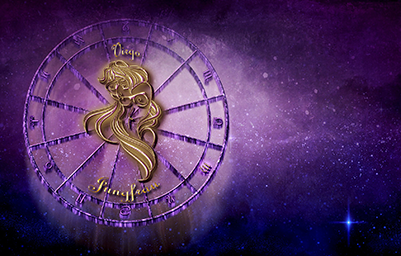 Daily Horoscope
Things will go smoothly at the workplace today. You will delight your boss with your cheerful outlook. It's a perfect day for making calculations as you are getting more cautious, realistic and decisive about the work you do.
Weekly Horoscope
Profession and CareerYou might be able to make steady progress in your career. This could be a good time for job holders to consolidate positions by making extra work efforts. Your rapport with seniors and superiors is going to be much better, and hence there might be ease of working during this week. Business people are too inclined to explore new territory to boost sales and increase turnover. Remain alert.
Professional CatchDo not get overly worked up to correct things and run the show smoothly. You are likely to feel somewhat restless. This can be attributed to slow progress in your pursuit. You need to have patience and understand that there is a cycle or system for every activity or venture. If there is poor coordination or input, things may go very slow.
Rising in CareerThis is a vastly positive and active week on the professional front for the Virgo, says your weekly horoscope. You might see a surge of opportunities at work. For the ones planning a job change, you may get fortunate. Things are destined to get in your favour, and you may convert the half-chances into opportunities. Do not feel upset by the senior's advice but use it for your growth.
Monthly Horoscope
Business Workout
The harder you work this month, the greater your chances may get. New opportunities may knock on your door, and you should not turn them down. Businesspeople must conduct more follow-ups in order to close a contract, and they must also be cautious about receivables. Things may not move as quickly as you would want in the middle of this month. Look for a flaw in your defences. It may finally assist you in effectively managing the issues. During the second half of this month, you may feel more supported. Take the necessary steps to reclaim the lost ground. Business People must make important financial decisions after careful consideration of the pros and drawbacks. This could be an excellent time for job holders to strengthen their positions by putting in the extra effort. To raise sales and turnover, business people should consider venturing into new terrain.
Career Networking Boon
At the beginning of this month, some difficulties may cause you problems. Don't get too worked up over fixing things and keeping the performance running smoothly. For business people, everything must be in order so that you may achieve a perfect result. Things may move slowly if there is insufficient coordination or if the needed proportion of input is not provided. Don't get stuck in a rut; attempt something new that is both practical and meaningful. The second part of this month may force you to take a step back and reconsider prior decisions and actions. If a past activity isn't yielding the desired results, take action in the present that is an improvised version of your previous actions. Develop your network by meeting more individuals. During the latter half of this month, you might feel motivated, with well-aligned planets assisting you.
Business Game And Risks
The planets may be on your side at the start of this month, so you should be able to make good success in your job. However, as the month progresses, it appears that you are having a difficult time. To stay ahead of your competitors, you may need to make a significant shift in strategy. This can be a crucial time for business people, and taking certain risks is a part of the game. Some new projects may be in the second half of this month to put your talents and patience to the test. This might be a difficult time for business people as well. Though the month-end time may be beneficial, you may need to reduce margins to close a business. As the month goes by, the workload and turnover may increase.
Yearly Horoscope
This year is good for your career and income. For all those who were planning to change their job should take these thoughts out of your mind. The mid-year may bring some difficulties in your job, but later this year, your hard work may start paying you off. You need to work hard to earn successful results. The time is to demonstrate your talent, says your Career yearly horoscope. If you are working in any government organization, awaited appreciation may be received, says yearly predictions. Further, the first half of the year is demanding to be a little cautious on the work front. Some of you have work which is not complete and you are stuck with it, but relax, this year is going to be cleared. This is also an excellent period for actors and musicians as they do some of the best work, predicts your Career yearly horoscope.