Virgo - Health and Well-being Horoscope
What the stars have in store for you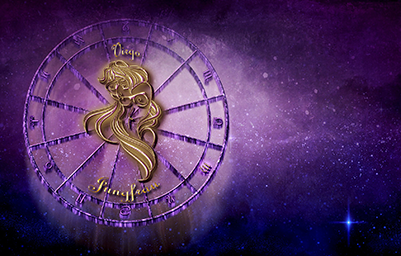 Daily Horoscope
You will be happy and in good health today. Luck will be on your side. If you travel for work or for joy, you will derive lot of happiness. You will be able to motivate others you yourself will be self motivated.
Weekly Horoscope
Health and FitnessYou may have a good energy level during this week. You might be much more aware of your health and fitness issues, and addressing some old matters may help you become more productive as the week advances. You may be making all the efforts to increase your efficiency and fitness level. It can help you maintain your health.
Health TipsThis could be an excellent week for your health and fitness. No major ailment is foreseen. Your vigour and vitality might become more potent as the week advances. Virgo natives are advised to keep better work-life management to reduce stress levels. Spare enough time for your workouts and exercise. Keep your diet simple, nutritious, and healthy to avoid illness.
The Fitness BaseYou might be healthy and content, both physically and mentally, during this week. If you are suffering from any health issues, you may see a respite in it. There may be minor skin diseases, but nothing to worry about. Take care of your diet and avoid junk. All forms of exercise might be helpful to you to upgrade your fitness.
Monthly Horoscope
Health Routine Lifestyle
You may be in good health for the rest of the month, but you may feel fatigued or have low energy at the start of the month due to everyday stress. Your energy levels may fluctuate. The planets may compel you to be more disciplined in your life, create a suitable routine, and work systematically. It may provide you with wonderful results and make a great difference in your lifestyle. From the middle of this month, you may be able to regain your health. This month's last weeks may make you feel a little sluggish. Your irresponsible behaviour may have a negative impact on your overall health. You are likely to realise your errors and devote your efforts to improving your efficiency and fitness level. It may aid in the maintenance of your health.
Care On-Time Saves Dime
Yaas Virgo! This month could be beneficial to your health and fitness. There are no severe illnesses expected. On the other hand, overwork may cause you to disregard your health and dedicate less time and attention to your fitness. If you want to stay in shape, you have no choice but to devote time to your health daily. Around the middle of this month, your health may deteriorate, and you may contract water-borne ailments. You may also feel less energetic or ill as a result of seasonal effects. However, you may feel at ease with your health and fitness levels. During the second part of this month, your strong resistance power and immune system may assist you in maintaining your health. You may have a decent health status for the most part, which may aid you in achieving your exercise goals.
Health And Wellness Resolution
During this month, you may be influenced by a lot of pleasant vibrations and energy. It may encourage you to think positively and contribute to a better state of health. You must, however, not take your health for granted and stick to your health programme. Though your energy levels are likely to remain high, you may encounter some unsettling events near the middle of the month. But if you stay positive, you may find a way to fix it. As the month progresses, the favourable impact is likely to assist you in resolving some existing health issues and allowing you to build up your stamina. There may be some changes near the end of the month, but you should be able to keep your health under control.
Yearly Horoscope
This year may prove amazing for matters related to your health but your parent's health may be a matter of concern. Those who are suffering from hypertension may need to be extra careful during this year. This year may be full of positivism and good health. The work is also balanced and it is giving you a healthy atmosphere where you are away from any kind of stress related problems. You may be able to maintain a perfect balance between your health and your personal life. Some of you have a sensitive throat, so try to avoid eating fast food and aerated drinks as a throat infection is indicated at this time, which predicts your health horoscope. This year makes sure you devote some time every day to relaxation by spending at least a few undisturbed minutes in a quiet spot to unwind and relax. Further, as the year would end on a good note, you would be happy with the way your life may take a turn.