Virgo - Money and Finances Horoscope
What the stars have in store for you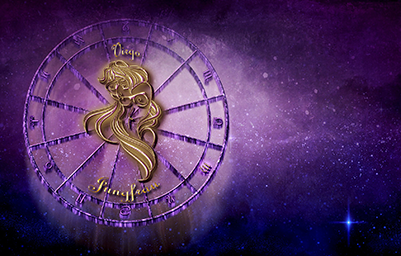 Daily Horoscope
This is a good day to sit with your bank statement and see the source of income vs expenses, to have better idea about where you stand and to have an overview or projection of the future.
Weekly Horoscope
Money and MarketsA perfect period to cheer up as you may get promising opportunities to strike profitable deals. Stars might help you make organised efforts to achieve desired results. This week may play an important role in your financial welfare. You could be filled with ideas, and this has positive implications for you. Virgos might get active with their plans for vertical growth. Earnings may also increase.
Cash TalksThere may be some confusing financial situations around you this week. While you step out to implement your plans, you may end up hurting your own interests if you act impulsively. As the week advances, you may have more clarity about how to proceed further. The positive outcome is that subsequently, there might be no mental blocks to stop you from being firm and decisive.
Investments and MoniesHappiness is not just going to be in your personal life, but you may also see your financial side flourishing. Good returns from investments are signalled. The week may indeed be rewarding for your financial life, and this can come as a pleasing surprise to you. You might have phenomenal luck in all financial matters. You may make great progress in all the professional assignments you commence.
Monthly Horoscope
Money Fulfillment
As the month begins, a financial gain may assist you in improving your financial situation. Simultaneously, you may be able to boost family provisions; you may do so freely. You may also resolve any outstanding concerns, and your astute decisions may enable you to save more money for the future. During the middle of this month, the stars may be in your favour for the majority of the days. You may now take advantage of opportunities to increase your earnings and build wealth. There may be plenty of planetary assistance to help you fulfil your obligations while also bolstering your financial strength. Some optimistic financial gains may bring you joy in the second part of the month. If you're looking to buy something special for your family, this could be a wonderful time to do it, or it could be a good time to invest in land or property.
Crisis Turns To Calm
You might look forward to financial advantages at the start of this month. You may be provided with appealing options to make money. The stars may assist you in making well-organised efforts to reach your goals. However, as the month progresses, you may discover that your ability to think clearly and rationally deteriorates. This is due to some odd situations in your near surroundings. Around the middle of the month, you may be harmed by a modest financial crisis. As the month progresses, the situation may gradually improve. The planetary effects in the second part of the month may help you work more efficiently. In terms of money, the latter half may be far more beneficial to wealth growth. However, the month's last weeks may be perplexing. To keep your financial budget intact now is the moment to behave with patience and prudence.
Steadier Earnings Bring Comfort
As the month begins, you may have good planetary assistance. If your financial situation improves, you may be able to purchase the luxuries you've always wanted. Pay close attention to how surplus funds are invested. Look for safe paths to take. Your wise decisions and sound investments may undoubtedly pay you in the future. The middle of this month may be quite active and brilliant, particularly in terms of financial matters. You may receive the anticipated income, resulting in a rise in your financial strength. Throughout the second half of the month, the influence of the planets may guide you. Your earnings may be consistent and fulfil your expectations. Make the most of every opportunity to improve your financial situation. At this stage, there's no need to concentrate entirely on conserving money. You could also try to take advantage of this moment to buy some assets for yourself and your family.
Yearly Horoscope
This year might be an excellent time for you in terms of financial growth and profits. You are likely to get good incentives during this year but for that, you'll have to develop an incentive plan that would drive results. This year may bring a time full of ups and downs in the financial front. Make sure you are able to pay back the money on time, or that you can withstand not getting your salary next year before you agree to this deal, however. This year is going to offer you good chances to enjoy a financially stable life and with the controlled expense and you may be able to save some good amount too. It is a good time to pursue this option, so take this year to consider your various options, even though it would mean a major spike in your expenses. If you are planning to invest in the last week of the year, you can expect some good money in return from that too.