Gemini - Career and Business Horoscope
What the stars have in store for you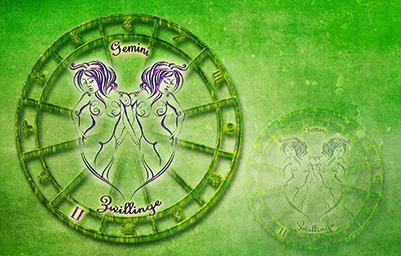 Daily Horoscope
Your efforts may get channelized in the wrong direction. Hence, Ganesha advises you to ensure that your hard work doesn't go in vain. Be very careful of your duties and responsibilities, says Ganesha. Getting helps from the right person will keep you on the track.
Weekly Horoscope
Work Matters
The businessperson may gain a new client. You are advised to avoid new responsibilities and finish all the backlog first this week. There may be some advertising and marketing costs which might be profitable later. This week, be cautious with your mail and phone calls. You are advised not to be hesitant to present your ideas at work or in meetings. Miscommunication can lead to difficult situations.
Work Matters
You may get support and appreciation from your boss this week. Professionals and digital media workers may get success. Some sudden conflict might be there with a female colleague with unplanned travelling related to work. The company agreement and new personnel may be finalised. A delay in government-related jobs may be there. You are advised to be diligent in your duties. You might get success in work.
Professional Ride
The communication equipment business may prosper. Work in art, fashion as well as creative ideas for business may help a good deal. You may get a better offer in tours and travel-related work. It would help if you were beware of your message and mail. You are advised to be optimistic and punctual at the workplace. With patience, stars suggest that things may improve by time. The wholesale business may prosper.
Monthly Horoscope
Career Planning And Prospects
This month, an old friend will probably help you solve a financial difficulty relating to your business. This month, you may be presented with an unexpected change in a distant place. You should rethink all of the business plans you were planning to implement this month in order to provide your company with the intended financial benefit expansion. In a business deal with a foreign country, the government may be able to assist you. Anyone working for a law company or in a law-related job could be successful in their endeavours; all they need to do is remain cool while negotiating the agreement with the government and top officials.
It is possible that you may be assigned a project, but there may be a delay in processing it. Maintain your resolve and break down your plan into little steps. Don't tell everyone at work about your goal.
Work Things Out In Business
Jupiter's transit is likely to bring you advancement and success in any endeavour you were working on. This month, certain significant planetary transits may reward your hard work and determination. Engineering-related work or employment can result in success. If you work in the communication device industry, this month may provide you with a fantastic deal and the required financial benefit.
Work in the arts and fashion, as well as creative ideas for your business, can help you close a solid transaction. There may be some advertising and marketing costs associated with your firm. This month, be cautious when sending mail and making phone calls. You may find yourself in a difficult situation due to a breakdown in communication. Try to work on the priority list; this might save you from rushing to finish the task. A female colleague or business partner at work may be able to assist you.
Practical Application Of Common Sense
Quality takes precedence over quantity. You must prioritise your tasks so that you do not become overburdened with labour and end up with nothing. There have been numerous changes in the workplace. New employees are welcome to join the company. It's possible that you'll be given new work responsibilities.
The stars are signifying a job change or transfer. At work, your luck is likely to be on your side. It is possible to be successful in a job that deals with legal and tax issues. A foreign corporation may offer you a wonderful business opportunity. The help of a mentor and government favour brings you good news about your job.
This month, you must exercise extreme caution when sending emails and messages. Don't make a hasty decision; it could get you into problems. This month, a practical approach to your career will most probably be beneficial.
Yearly Horoscope
You may achieve the required results through your efforts, as the year would provide you with the achievements. You should also avoid making any changes to your job or work until the end of the year. But the year end would not disappoint you, as you can expect a change in the project that you are dealing with. You may attain the desired growth if you work diligently throughout the year. Further, this year may be full of changes in your professional front and you need to keep your confidence high to deal with whatever that comes up for you. So all in all, you are going to flourish in your career field provided you are ignoring things that are not related to your work. Your current job is good for you as for now, so avoid any job change, according to this year's career horoscope prediction for you.