Gemini - Money and Finances Horoscope
What the stars have in store for you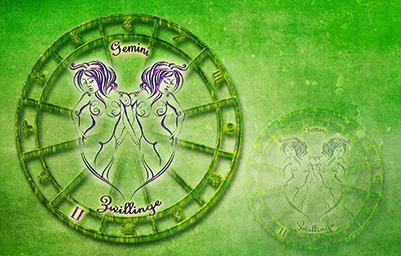 Daily Horoscope
Today you will waste your funds on things that are not essential. You may also spend money on a member of the opposite sex, traveling and transient pleasures, or on some unforeseen event.
Weekly Horoscope
Economical Flow
This week's budget must be planned ahead of time. Some unplanned travelling, fixing old automobiles, unforeseen health, electrical or plumbing repairs, health kit, yoga or meditation classes, and travel abroad may cause unanticipated expenses this week. Some of you may inherit property this week. You might get monetary gains from relatives or in-laws this week. This week, savings may not be as expected.
Funds And Fluidity
You and your mother's health may result in unexpected expenses this week. There is a good probability of getting a promotion or bonus. It is advisable not to invest in the stock market and not lend money. Some expenses on family functions, festivals, children or newborn babies, and learning occult knowledge may happen this week. Your partner may reward you with financial gain this week.
Funds And Finance
You may be able to save money, but unplanned expenses like children's acquisition of new skills and house interior may prove unavoidable. It is not a good time to invest in the share market without expert advice this week. Your father may assist you financially this week. You may get relief from loans and taxes. You may get a financial advantage from the family business.
Monthly Horoscope
Finance In Troubled Waters
This month is likely to bring unanticipated health expenses as well as interior improvements or repairs. Short-distance travel may occur unexpectedly, resulting in unforeseen expenses. You might visit a religious site, which may cost you money. This is not a good month to make a large land or property investment. Those in the fashion or creative industries may face unexpected costs in their projects and businesses. Try to plan ahead of time so that you don't run into any financial difficulties. There may be a financial outlay for the car. You may face difficulties with loan concerns, which can cause tension, so avoid taking out a loan this month. Travel-related expenses might be incurred. The students are likely to be reimbursed for their course expenditures. This month is the best time to buy health insurance. A sudden increase in domestic bills might put a strain on your finances.
Beware Of Little Expenses
This month is likely to provide anticipated savings. The transit of the planets indicates that you should have a financial plan ahead of time because a change in your interior or residence can result in a financial outlay. Some functions or celebrations may also add to your costs. It is not a good moment to make any large stock market investments, and it is also not a good time to give money to friends because it may be difficult to recoup.
Communication-related businesses can bring in a lot of money. Long-distance travel might add to your expenses. It's possible that you'll spend money on pals and a party. At-home religious activities might also generate costs. You and your mother's health must be taken into consideration, as this may result in unexpected expenses. There's a good probability of getting a promotion and a bonus.
Profit And Loss
There may be financial costs associated with legal matters or loan concerns. Unplanned expenditures can result from loan-related issues. If you're looking for a quick loan, this is the place to go. Your in-laws can seek financial assistance or expect you to shoulder this burden. When investing a large sum of money in the stock market, you should exercise caution and get advice from a professional before proceeding.
Because of the shift of residence, there will probably be unforeseen expenditures on family or in. This month, avoid making a large investment in foreign-related assets or projects. Gain has a lower probability than loss.
Your spouse may be able to assist you financially or provide counsel that may help you achieve your goals. If you work in a medical or language-related field, this month can provide you with the needed cash gain as well as a fantastic opportunity to build money.
Yearly Horoscope
Although you may face ups and downs in your career, you may not have a problem with money during this year. In addition to earning money from investing in stocks and shares, there are also people who may be donating it to charitable organizations and social causes. The chances of making a profit in stocks and shares are quite high this year from a long-term perspective. You can expect some money from family members this year as well. If you are settling your family matters, your best phase may be after the second half of the year, when any family settlement funds may be available to you. You may not find it easy to get a promotion and earn more money if you've been looking for both. Be sure to keep up the good work you have been doing now to ensure you may earn well throughout the year.