Sagittarius - Health and Well-being Horoscope
What the stars have in store for you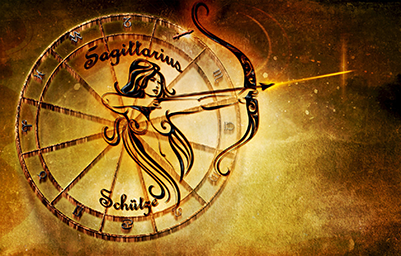 Daily Horoscope
Give time to yourself. Spend some moments in seclusion. Put issues on the back-burner and let things happen the way they happen. This is an ideal day for revitalizing yourself by giving more relaxation to your mind. Calm mind will help maintain good health.
Weekly Horoscope
Stable Health This week may bring a stable time on the health front. This brief period may pass, and you may feel stable again soon, say your weekly predictions. However, there is a need to be careful with recently recovered ailments. Relax and breathe deeply each time you feel like you may be getting worked up. Massage and therapy would also work.
Pay Attention To HealthGive proper attention to your health this week. If you are working late, stress may bother you and provide a toll on your health. Elders are advised to be careful with their meals and medication. Those who have been suffering from kidney and abdomen related issues may experience great relief from it. Stay true to your diet to lose weight.
Pay Attention To HealthGood times would be rolling on the health front. You may get relief from your recent health issues. Children are advised to stay careful and protected against cold and skin irritations. Medical consultation is advisory, says your weekly predictions. Health should be very much a priority. It's time to relax and feel stress-free and be non bothered by anything around.
Monthly Horoscope
Health On Serious Note
This is the month in which no serious health issues are expected. Even if you have small health issues, it may not be a major source of concern. Medical treatment may assist in the management of the disease. However, you should keep track of your food consumption because there's a chance you'll experience some digestive issues at this time. Most of you are in good health, which may boost your self-esteem. Make sure you're eating less because it can affect your weight. Control it by eating a well-balanced diet. This may not only increase your fitness but also provide you with the necessary fitness. Ascertain that your health receives the attention it requires right now. Also, if you've been yearning for a nice night's sleep, this month may bring plenty of opportunities. This month, make sure your diet and fitness aren't jeopardised in any way.
Sound Health
This is the month, and the planetary alignment may appear to be highly favourable. During this month, you are unlikely to experience any serious health problems. You should, however, follow a healthy lifestyle regimen and keep track of your eating habits on a daily basis. There is also a good chance that you may meet a good consultant who may help you improve your fitness and prioritise your health. So, this month, make a conscious effort to focus on your health and diet. If you take them lightly, you may find yourself in serious difficulty. Just be grounded because you don't want to be overly daring, which can backfire. Maintain a grounded demeanour because this may work to your advantage.
Health At Stability
Throughout the month, your health would be stable. Your immunity, however, would be a significant question mark for elder natives. This would deplete your previously undeveloped power and fitness. This is also an excellent time for you to practise meditation to strengthen your memory. If you are studying for an exam, the month may allow you to gain the most knowledge possible, resulting in a strong degree of confidence. Improve your fitness as much as possible during the week, as this is something you'll need to do to make good progress over the month. In addition, the diet portion may be kept under strict control for a long time. This is also the time when your health is at its worst. It would also be beneficial to boost your energy near the conclusion of the month.
Yearly Horoscope
This year may need some out of the box efforts to keep your health on track, according to yearly predictions. You may be back on your feet in no time, says your Health yearly horoscope. For athletes, your health may stay excellent, with regular exercise and fitness programmes making it possible for you to work long and hard, predicts your Sagittarius yearly horoscope. If you have fallen behind on your work due to some health issues, this year may be the perfect time to put in a few extra hours to catch up. You shouldn't be careless regarding your health this year. Alongside, you can practice yoga and do some light exercises in the morning. This not only gives energy to the body but also helps in keeping the health problems at bay. Just make sure you are careful of your health.