Sagittarius - Love and Relationship Horoscope
What the stars have in store for you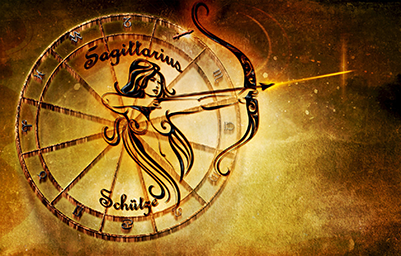 Daily Horoscope
Your readiness to compromise will melt your lover's heart. You will listen to your loved one and your better half will support you for all the things close to your heart. Expect a committed relationship, foresees Ganesha.
Weekly Horoscope
No Outside InfluenceThis week would be a roller coaster ride on romance. Beware of a friend who wants to try to fix your relationship with your partner. Any outside influences would make these things worse. Communicate clearly and patiently. Your relationship may be fine. If you are about to marry, it would be better to plan everything from the venue to the dress, say your weekly love predictions.
New Flowers of Love BloomingSingles may get into a relationship based on affection, love, and loyalty, which is the best way to start any kind of relationship. Some may get into a relationship with an old-time friend. Some folks may remain uneasy with one in a meaningful relationship. However, with your love and affection, you can get everything sorted and have a mutual response, says your Sagittarius weekly love horoscope.
Brace Yourself For Good NewsThis week may give you a great time to enjoy yourself with your partner. It is a great week for people who are planning to get married. All your plans may get executed well. Do not get into unnecessary arguments with your colleagues and friends. The couples who plan to conceive may hear good news around the weekend; brace yourself to listen to the good news.
Monthly Horoscope
Risk And Love
Unmarried couples may find it difficult to get married during this month. There are signs that your love life is having issues. The majority of you, especially the single natives, are advised to remain away from love concerns. Those who are already in a relationship should try to reignite the flame in their relationship. To have a long-lasting and healthy relationship, you'll need to create mutual understanding and open communication. It indicates that this month may be a fantastic month for your married life. This month, you may be in a happy marriage. Your life may be fond of you and place a high value on you. You'll spend meaningful time with each other while maintaining a work-life balance. This is your best time in life, and if you stay focused and are willing to take some risks, you may succeed in all areas of your life.
Love Clash
It's possible that your love life may suffer during this month, especially if you're a native. Couples may engage in verbal sparring, and your connection may become icy. It's critical to reignite the fire in your relationship. This is a lucky moment for single people, as there's a good possibility you'll meet your soulmate in the month of October 2020. You may have a pleasant marriage, according to the October 2022 Marriage Horoscope. You and your life partner would have a healthy and happy connection. At home, the atmosphere would be equally pleasant and serene. You'll spend a lot of time with your spouse and strike the ideal work-life balance. You may develop physical intimacy with your partner, which may improve your relationship's closeness. For the month, there's a chance you'll see a breakup with your adored life.
Love In Air
Your relationship may be rejuvenated this month, according to the November 2022 Love Horoscope. Unmarried couples may find this month to be very beneficial. During this time, all of your unresolved issues may be resolved. During this romantic month, single residents may also find their perfect partner. Overall, the time period is ideal for both singles and couples. According to the Marriage Horoscope for November 2022, your married life appears to be average during this month. There may be some little disagreements, but you may quickly resolve all of them. We advise you not to argue about insignificant issues. Your lucky charm may be your partner. There is a possibility that they may have health issues during this time. If you're looking to settle old grudges, this is the month for you. Any disagreements can be readily resolved by mutual discourse and debate.
Yearly Horoscope
Throughout the year, love may bring you happiness and commitment, and you may be very satisfied. Loved ones and people in long-term relationships may have to deal with some tough times. This might take some time, but things may be back on track in no time. Love is needed by everyone and this year is likely to bring an outstanding time for romantic pleasures. There is a spark of romance and sensuality in your relationship, even if you have been together for a very long time. Some of you are going to encounter romantic pleasure for the first time in your life. This year has high potential to meet your new partner. A proposal during the second half of the year is a good idea, as you have a high chance of getting accepted. Overall, your love life should continue to progress this year.